Take Charge Of Your Health & Wellbeing
There is irrefutable evidence of the effectiveness of regular physical activity in the improvement of your general health and wellbeing. Physical activity has been proven to be a key in the prevention and management of chronic diseases including diabetes, cardiovascular disease, depression, anxiety, obesity, dementia and osteoporosis. It is one of the reasons why we chose to incorporate exercise physiology into Urban Well.
Our program of classes has been specifically designed to reinforce our philosophy of simplifying health and support the factors of our Urban Health Circle.
Classes target elements of strength, stability, flexibility, and balance necessary to prevent and manage injury, improve cardiovascular fitness and promote healthy ageing.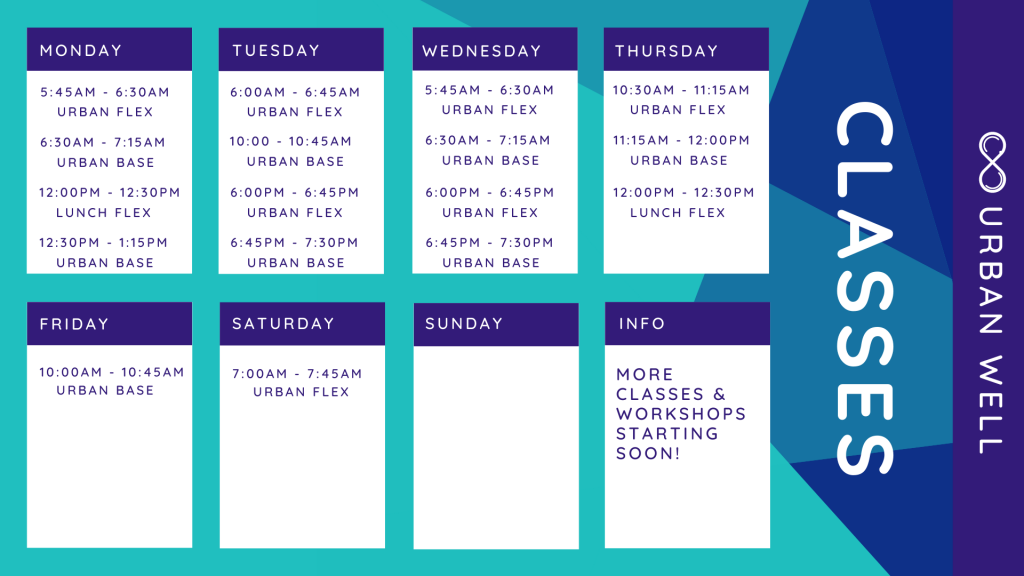 Urban Flex, 45min Class / Lunch Flex, 30min Class
$19.00 (45min) / $15.00 (30min)
A Stretching Class for the Inflexible
Loosen up, improve your flexibility and counteract the wear and tear of daily life. Our stretching, foam rolling and triggering classes help you reduce your risk of injury and relieve general muscle and joint stiffness, in a fun and relaxing environment. Our classes are targeted at those who are inflexible and those who would feel daunted by stepping into a room full of people who can bend in half.
45min Classes
$19.00/ Class
Focus on Building a Strong Foundation
Joint mobility and stability are the foundation of pain-free movement and injury prevention. By gently challenging your body through range of motion and muscle activation exercises, we help you build strength, balance and freedom of movement. Our goal is for you to feel stronger and more confident to move beyond injury or your limits in movement. It is not necessary to have a background in exercise to benefit from these classes. Your instructor will help you safely execute each exercise and tailor them to your specific needs and ability.
45min Sessions – All equipment provided
$35.00/ Class
These sessions support your Exercise Physiology One-On-One sessions, once you receive your tailored program. Instead of having to complete all of your sessions on your own, join a small group class. These classes provide a fun and supportive setting, with the watchful eye of an exercise physiologist helping to ensure you are using correct technique. Gain accountability, extra motivation and support to reach your health and fitness goals.